Tuition
Our Ethos
Our aim at QIS tuition is​ to deliver a dynamic learning experience to help your child prepare, perform and achieve to their highest potential; acquire good study habits and achieve academic excellence. Our teachers range from subject specialists to Undergraduates/Graduates from some of the top Universities across the world, including (but not limited to) MIT, Oxford, Cambridge, UCL and LSE. We tailor our tuition service to cater for all your academical needs.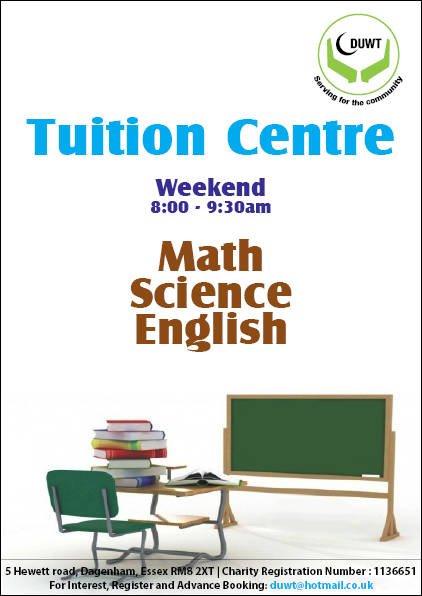 Our Teachers
Our teachers are DBS/CRB checked and trained in safeguarding and tutoring and have spent time perfecting their art at some of the leading universities around the world. Our teachers have received extensive training in classroom management skills from leading practitioners. Our teachers value and understand the impact of education, and make it their job to convey this to the students. Our team of expert teachers put in the time and effort, outside and inside lessons to make sure the quality of tutoring that your child receives is up to our high standards, which we maintain through regular assessments of teacher and student performance.
Safeguarding Issues
Our tutors have been trained to deal with safeguarding issues that may take place with in the Masjid environment. Although we try our best to refrain from affecting our students as much as possible, we have trained our teachers to deal with the worst case scenarios. If there are any issues or worries regarding safeguarding within our tuition center, please contact us on the number below, and for a more general insight into our training and CPD, please follow this link.
Trips and Outings
At QIS, we have a firm belief in the idea of 'education in motion'. We therefore often take our students out to trips and outings in the local area to provide insight into how education is important for our daily lives. We have recently taken our students out to Flip Out Trampoline park in East Ham. We often pay for as much of the fee as we can and try to make the trips both enjoyable and educational and cost effective for parents.